Advanced production equipment, superb production technology
Stainless Steel

Wire Shelving
Some of the many advantages to using wire shelving in either chrome or epoxy coated are:

Hygiene: as the prime choice of all medical institutions, pharmacies, laboratories, clinics, nursing homes, etc. as well as the first choice for kitchens, abattoirs and food processing units, because of its sanitary features and easy cleaning - stainless steel shelving is a good choice that can be extended to home kitchens and pantries.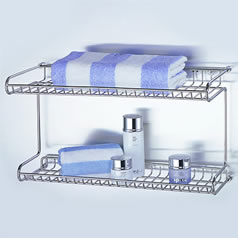 Fire and heat resistance: stainless steel has nickel alloy and chrome in high percentages and together they make the shelving units resistant to fire and heat, scaling and corrosion.
Strength: it may not look like much but stainless steel is very durable and long lasting. True it can take a beating and collect a few knocks along the way, but you can be sure its going to be with you for the long haul.
Aesthetics: you can't say this about many other kinds of shelving units because shelving is just that - shelving! However, stainless steel shelving has a bright and shiny appearance that gives a very clean look and a certain amount of attractiveness to the units.
Corrosion: the anti corrosion properties from the natural chrome rich oxide film that forms over the steel's surface helps to prevent corrosion and allow the metal to be self repairing.
Fabrication: modern techniques have advanced to the point where stainless steel can be fabricated like any other kind of metal, giving it shape and design.
Value for money: the best part about stainless steel shelving is that you can be sure you are getting value for money.
Metro offers a range of original wire storage handling systems that easily take heavy loads and have shelves that can be adjusted to one inch increments in height on the posts and double grooves are provided as a guide to position the shelves firmly in the slots.
Whether it is for commercial, industrial or home use, there is no doubt that stainless steel wire shelving has captured a good part of the storage market with its durability, longevity and sturdiness that inspires confidence.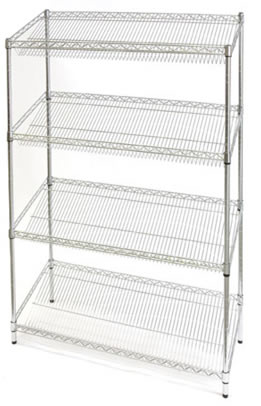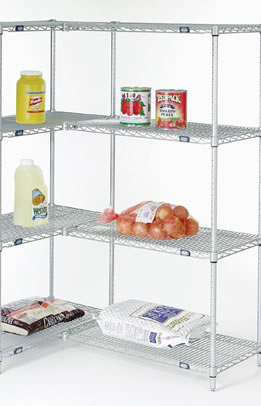 Products List
Services
"Guarantee of Consistent Quality
State of Art Equipment and Strong Technical Backup"