Advanced production equipment, superb production technology
Steel

Roll Container
In 2014, we received and fulfilled an attached order for the steel roll container with complete accessories. The steel roll containers or rolling carts are made with 2 layers of steel wire shelves, wheels, pallet base, end frame, side frame and detachable side frame. The metal parts of the steel rolling containers are electro galvanized or hot dipped zinc coated. Hot dipped galvanized steel rolling container costs a bit high compared with electro galvanized containers. If you have similar order, welcome to contact us.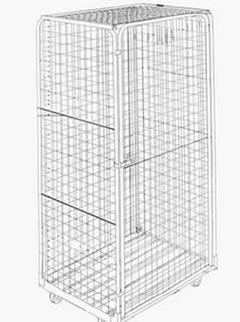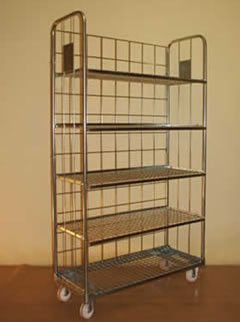 STEEL ROLL CONTAINER/CONTAINER ROLLING CARTS
Steel roll container fully assembled for use in Medical Cold Stores.
Quantity required - 1,400 No's

Each wire container consists of : -
A. Name plate & card holder
B. I pc. Roll pallet adjusted to existing glide stock racks in MSA mounted with 2
nos. of fixed and 2 nos. swivel castors.
C. 2 pc. side frames
D. I pc. end frame
E. I pc detachable side frame with lock
F. 3 pc flexible rubber belt
G. 3 pc's removable metal shelves (2 no's for the cage and 1 no as spare).
Maximum load of the wire mesh shelf: 150kgs
H. Roll containers should be hot galvanized or electro-galvanized finished
standard.
I. Supplier should bring extra (300) moving wheels with brackets as spare in
addition to the specified containers quantity.
J. Total Weight of the container 61 kg. (With 2 shelves)

WHEELS FOR ROLL CONTAINERS:
I 00 mm Hard Nylon Castors fixed and Swivel with hub cap and seal-ring, non
grease, all Wheel's made from hardened polyamide, 6 bolts with self locking nuts, steel roller
Bearing.
Weight of the wheels not less than 1 kg each.
Effective protection against manual handling equipment forks.
( Preferred to be sound free)
Effective protection against manual handling equipment forks, Supply extra
(300) moving wheels with brackets.
MEASUREMENT
A. Outside Measurement ( h x w x I ) 1600 mm x 867 mm x 670 mm
B. Distance from floor to lower edge of roll pallet 125mm towards detachable
door & 1 OOmm towards side frames.
C. Side and end frame pipe diameter 20 mm and thickness 2 m

WIRE MESH SHELVES FOR MAKING OF CONTAINERS LAYERS:
A. Thickness 27 mm
B. Length 850 mm
C. Width 618 mm
D. Weight not less than 7 Kg.
E. Thickness of the metal 2mm
F. Side Holder metal Thickness 2 mm
G. Shelves weight (per Piece) 5.5 kg
END FRAME (1 No)
A. Length 1465 mm
B. Width 825 mm
C. Thickness of wire mesh 3.5mm
D. Dimension of wire mesh 50 x 50 mm
E. Bolt size 52mm long with lock nut and washer
F. Frame Weight not less than 7.5 kg
G. Frame Wall thickness 2mm
H. Frame diameter 20mm

SIDE FRAME (2 Nos)
A. Length 1468 mm
B. Width 670 mm
C. Thickness of wire mesh 3.5mm
D. Thickness of frame holding shelf7.5mm
E. Dimension ofwire mesh 50 x 50mm
F. Bolt size 52mm ( length) with lock nut and washer
G. Weight not less than 7 kg's
H. Wall Thickness of Frame 2 mm
I. Frame Diameter 20mm

DETACHABLE SIDE FRAME
A. Length 1440mm
B. Width 799 mm
C. Thickness of wire mesh 3.5mm
D. Dimension of wire mesh 50 x 50 mm
E. Door lock has to be heavy duty with the provision to tag safety seals
F. Bolt size 52mm long with lock nut and washer.
G. Weight not less than 8 kg's including the lock assembly
H. Wall Thickness of Frame 2mm
I. Diameter of the frame 20mm

PALLET BASE
A. Length 875 mm
B. Width 678 mm
C. Thickness ( Front ) 20 mm
D. Thickness ( Side ) 65 mm
E. Bolt size for base 22mm
F. Weight of Pallet base without wheels 12.5 kg
Total Weight of the container 61 kg (with 2 shelves)
Products List
Services
"Guarantee of Consistent Quality
State of Art Equipment and Strong Technical Backup"